Ancient Armory is a side quest in Horizon Zero Dawn.
Synopsis
Tucked into the Sacred Lands of the Nora is a long-forgotten ruin of the Old Ones that contains a curious set of armor sealed away behind locked Ancient Doors. To gain access, Aloy must collect five Power Cells located throughout the world. This quest will be activated the first time Aloy comes across one of these Power Cells or visits the Bunker.
Four of the Power Cells can easily be obtained during the main quest, but the fifth requires Aloy to revisit the ruins she fell into and found her Focus in as a child.
Objectives
Find a Use for the Power Cell
Restore Power to the Bunker Door
Investigate the Bunker
Restore Power to the Mechanism
Retrieve the Ancient Armor
Walkthrough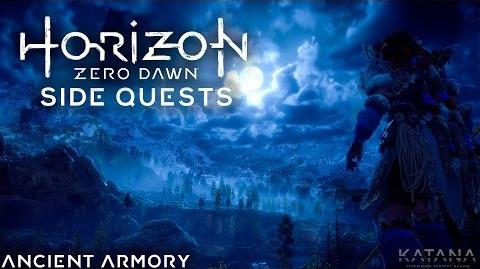 Gallery
Ad blocker interference detected!
Wikia is a free-to-use site that makes money from advertising. We have a modified experience for viewers using ad blockers

Wikia is not accessible if you've made further modifications. Remove the custom ad blocker rule(s) and the page will load as expected.