"The lesson will be taught in due time, Aloy. Until then, we wait."

This article contains heavy spoilers, and may reveal plot or quest information.
"I'm just a traveler, with a bow, a concern about the state of these lands and a missing partner."
―Nil
Cause for Concern is a side quest in Horizon Zero Dawn.
Synopsis
After clearing out all six Bandit Camps, Nil invites Aloy to join him on the mesa south of Meridian, overlooking the Spearshafts for their final farewell.
Upon climbing up to the mesa, a number of bandit corpses can be seen lying around the camp. Here, Nil challenges Aloy to a duel to the death.
Should Aloy choose to accept his duel, she defeats and kills him in battle.
Should Aloy decline, she bids farewell to a disappointed Nil.
Objectives
Talk to Nil
Accept or Decline Nil's offer to battle. (Accept means killing Nil.)
Talk to Nil
Walkthrough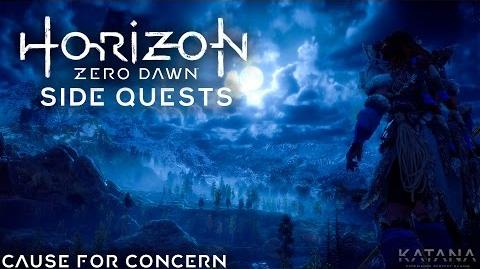 Trivia
Deciding to kill Nil will make the player ineligible for the secret trophy "All allies joined."
Ad blocker interference detected!
Wikia is a free-to-use site that makes money from advertising. We have a modified experience for viewers using ad blockers

Wikia is not accessible if you've made further modifications. Remove the custom ad blocker rule(s) and the page will load as expected.