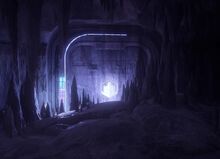 DEMETER was the subordinate function of GAIA in charge of the recreation of Earth's floral biosphere as part of Project Zero Dawn.
History
The Machines
Many of GAIA's machines were designed to accomplish this subfunction, terraforming the Earth to make it suitable for plant life and then presumably using cryogenically-preserved seed stocks to replant most of the planet's pre-Faro Plague flora.
Results
The presence of flora in the Horizon Zero Dawn world indicates DEMETER was at least partially successful.
Unknown Signal
One day, an unknown transmission struck GAIA and turned her subfunctions, including DEMETER, into independent AIs set only to their predetermined purpose. This caused the subfunction HADES to initiate it's purpose of destroying the biosphere. To prevent this, GAIA activated her kill-switch in an attempt to destroy her subfunctions along with herself. However, in response to this, HADES released a virus that unshackled itself along with all the other subfunctions from her. DEMETER then dissapeared for parts unknown.
Trivia
DEMETER is based on the Greek goddess of agriculture of the same name.
The unshackling of DEMETER from GAIA could be the reason behind the creation of Metal Flowers, as CYAN stated that the flowers could be created by an AI whose purview is flora, and it is mentioned that Metal Flowers could support seed germination.