Death from the Skies is a side quest in Horizon Zero Dawn.
Synopsis
Objectives
Go to Pitchcliff
Kill the Glinthawks
Find the Leader of Pitchcliff
Investigate Pitchcliff
Go to the Campsite
Go to the Workshop
Kill the Stormbird
Disable the Lures
Investigate the Workshop
Return to Ralert
Walkthrough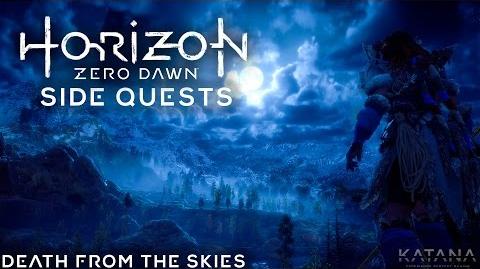 Trivia
The quest cannot be started if Into the Borderlands is active.
If the lures are disabled prior to killing the Stormbird, Aloy can simply wait for it to leave and continue the quest without having to fight it.
Gallery
Ad blocker interference detected!
Wikia is a free-to-use site that makes money from advertising. We have a modified experience for viewers using ad blockers

Wikia is not accessible if you've made further modifications. Remove the custom ad blocker rule(s) and the page will load as expected.