---
---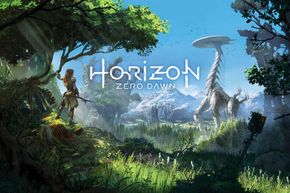 Horizon: Zero Dawn takes place a thousand years into the future, in a post-apocalyptic world where colossal machines dominate the land. Over time, human civilization has regressed to tribal societies of hunters and gatherers who survives through immense forests, imposing mountain ranges and the atmospheric ruins of their ancestors – all while the machines become increasingly powerful. The player controls Aloy, a hunter who uses her speed, cunning and agility to stay alive and protect her tribe against the force, size and power of the machines.
Horizon Zero Dawn
What excites you most about Horizon Zero Dawn?
Ad blocker interference detected!
Wikia is a free-to-use site that makes money from advertising. We have a modified experience for viewers using ad blockers

Wikia is not accessible if you've made further modifications. Remove the custom ad blocker rule(s) and the page will load as expected.