PoLL
Would you like to see Horizon become a transmedia (ie. comics, novels, etc.) franchise?
Recent blog posts
Hi all,

I know I haven't been an active contributor in this wikia for months, but I just wanted to tell you guys how grateful I am for the contributions to this wiki. I am absolutely amazed at how far this wiki has come, starting from a measely 30 pages, the HZD wiki now has more than 1.1k pages. Th…

Read more >

I added a notice on this to the Community Message sidebar that can be found on the Recently Edited page but thought I'd add it here as well for more exposure:

Game guide publisher, Future-Press, who published the Collector's Edition Guide for the base game, has released a free PDF guide for the Froz…

Read more >

Hey guys, I was just about to update the Resources pages to include the pages I've added so far for resources in the Frozen Wilds but I just wanted to check first how youse think it best be done. Do you want me to just slot them in and put a little 'FW' at the end or were youse thinking of doing a …

Read more >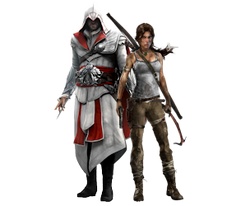 Action-Adventure Games
Go to these sites for info or for help with your own wiki!
ARK: Survival Evolved • Assassin's Creed • Bayonetta • The Binding of Isaac • Castlevania • Darksiders • Days Gone • Devil May Cry • Fran Bow • God Eater • Grand Theft Auto • Gravity Rush • HITMAN • Horizon Zero Dawn • InFAMOUS • Just Cause • King's Quest • L.A. Noire • The Last of Us • Legacy of Kain • Legend of Zelda • LEGO Dimensions • LEGO Marvel and DC • Lightseekers • Mafia • Metal Gear • Monster Hunter • Ninja Gaiden • Ōkami • Prince of Persia • Red Dead • Senran Kagura • Shenmue • Sleeping Dogs • Space Quest • Splinter Cell • Subnautica • System Shock • Tomb Raider • Uncharted • Watch Dogs • Yakuza
Want your community included? See how!
See all of our Action-Adventure gaming wikis!