PoLL
Would you like to see Horizon become a transmedia (ie. comics, novels, etc.) franchise?
Recent blog posts
Each character gets four weapon "types," for the four quick select slots. Said weapon types will be based on their normal weapons and fighting styles. I might also give them a heavy weapon if It's fitting. Since lower tier version are made completely redundant once yoiu get the newer/better version…

Read more >

Since we have no sandbox, and the map won't render until published... sorry

Read more >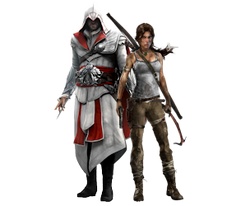 Action-Adventure Games
Go to these sites for info or for help with your own wiki!
ARK: Survival Evolved • Assassin's Creed • Bayonetta • The Binding of Isaac • Castlevania • Darksiders • Days Gone • Devil May Cry • Fran Bow • God Eater • Grand Theft Auto • Gravity Rush • HITMAN • Horizon Zero Dawn • InFAMOUS • Just Cause • King's Quest • L.A. Noire • The Last of Us • Legacy of Kain • Legend of Zelda • LEGO Dimensions • LEGO Marvel and DC • Lightseekers • Mafia • Metal Gear • Monster Hunter • Ninja Gaiden • Ōkami • Prince of Persia • Red Dead • Senran Kagura • Shenmue • Sleeping Dogs • Space Quest • Splinter Cell • Subnautica • System Shock • Tomb Raider • Uncharted • Watch Dogs • Yakuza
Want your community included? See how!
See all of our Action-Adventure gaming wikis!