Insult to Injury is a side quest in Horizon Zero Dawn.
Synopsis
After talking to either Enara in Mother's Heart or Fia in Mother's Rise, Aloy is sent to retrieve some Dreamwillow from caches on Brave trails in order to help ease the suffering of the Nora wounded in The Proving Massacre. Upon inspecting both caches, it is found that both have been replaced by metal shards.
Aloy returns to Fia in Mother's Rise, who suggests Aloy visit Jun, a recluse that picks herbs and brews medicines. Upon approaching Jun's cabin, however, Aloy hears Jun crying out for help. After prying open Jun's door with her spear, she learns that a gang of outcasts stormed Jun's cabin, taking his Dreamwillow. Using her Focus, Aloy follows the trail of the outcasts up the mountain, where she finds the band under attack by machines. After taking out the machines, Kurnst, the leader of the outcasts jumps down to thank her. He explains that they only took the Dreamwillow because they had wounded that were in need of it. After negotiations, he agrees to part with a small amount for Aloy to take back to Jun.
Returning to Jun, Aloy leaves the Dreamwillow with him. After a fruitless argument where Aloy learns of Jun's intolerance towards outcasts, she leaves with a warning that she will be back if Jun does not deliver the Dreamwillow to Fia. 
Objectives
Search Brave Trails for Dreamwillow Caches
Talk to Fia
Find Jun
Investigate the Lodge
Unblock the door
Search the Area for Tracks
Follow the Tracks
Kill the Machines
Talk to the leader of the Outcasts
Return to Jun
Walkthrough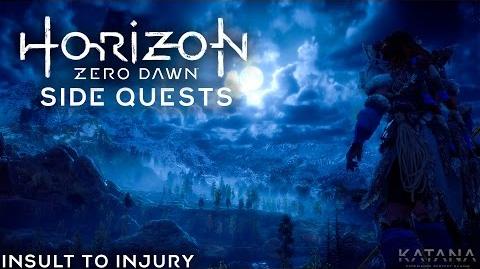 Gallery
Ad blocker interference detected!
Wikia is a free-to-use site that makes money from advertising. We have a modified experience for viewers using ad blockers

Wikia is not accessible if you've made further modifications. Remove the custom ad blocker rule(s) and the page will load as expected.