Insult to Injury is a side quest in Horizon Zero Dawn.
Synopsis
The wounded braves of the Nora need Dreamwillow to ease their pain, but supplies have run dry.
Objectives
Search Brave Trails for Dreamwillow Caches
Talk to Fia
Find Jun
Investigate the Lodge
Unblock the Door
Search the Area for Tracks
Follow the Tracks
Kill the Machines
Talk to the Leader of the Outcasts
Return to Jun
Walkthrough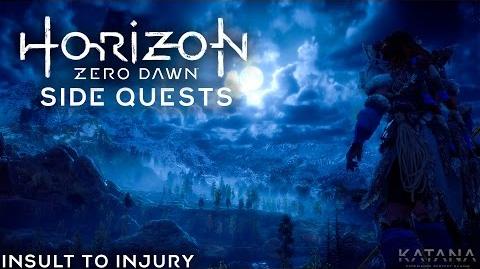 Gallery
Ad blocker interference detected!
Wikia is a free-to-use site that makes money from advertising. We have a modified experience for viewers using ad blockers

Wikia is not accessible if you've made further modifications. Remove the custom ad blocker rule(s) and the page will load as expected.