Nora Hunting Grounds is an activity in Horizon Zero Dawn. The grounds are one of the five known Hunting Grounds maintained by the Hunters Lodge in the Carja capital Meridian.
The Nora Keeper offers the Tools Trials. These trials test a hunter's skill in the use of hunting tools such as blast wires and using the environment to your advantage such as crushing machines with logs.
Tools Trials
Parts Alone Trial
Remove Canisters from Grazers.
Blazing Sun: 01:30
Full Sun: 02:00
Half Sun: 20:00
Logpile Trial
Kill machines using the Logpile Traps in the area.
Blazing Sun: 02:00
Full Sun: 05:00
Half Sun: 20:00
Blast Wire Trial
Kill Grazers using the Carja Tripcaster.
Blazing Sun: 03:00
Full Sun: 06:00
Half Sun: 20:00
Walkthrough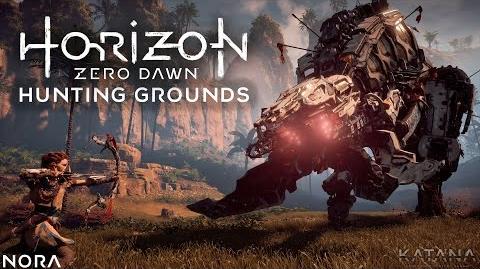 Ad blocker interference detected!
Wikia is a free-to-use site that makes money from advertising. We have a modified experience for viewers using ad blockers

Wikia is not accessible if you've made further modifications. Remove the custom ad blocker rule(s) and the page will load as expected.