Redmaw is a side quest in Horizon Zero Dawn.
Synopsis
When Aloy returns to the Hunters Lodge to present Ahsis with the trophies collected during Deadliest Game, she is greeted by Ligan. He informs her that Ahsis and her Hawk, Talanah, have gone in pursuit of the monstrous Thunderjaw known as Redmaw.
Objectives
Talk to Ligan
Find Talanah
Kill the Outlanders
Talk to Talanah
Follow Redmaw's Tracks
Kill Redmaw
Talk to Talanah
Talk to Talanah
Talk to Ahsis
Talk to Talanah
Talk to Talanah
Walkthrough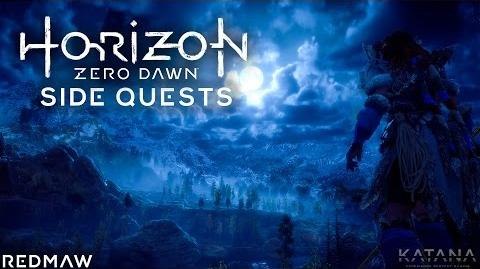 Gallery
Ad blocker interference detected!
Wikia is a free-to-use site that makes money from advertising. We have a modified experience for viewers using ad blockers

Wikia is not accessible if you've made further modifications. Remove the custom ad blocker rule(s) and the page will load as expected.