'Horizon Zero Dawn' Lore: Subordinate Functions

from Random Side Quest

"The lesson will be taught in due time, Aloy. Until then, we wait."

This article contains heavy spoilers, and may reveal plot or quest information.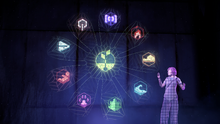 The subordinate functions are components of GAIA, the AI designed for Project Zero Dawn in response to the Faro Plague. They are a comprehensive suite of subfunctions dedicated to specific tasks, all part of Project Zero Dawn's goals of deactivating the Faro Swarm and re-terraforming the planet.  
Background
While GAIA serves as the central machine intelligence for Project Zero Dawn, the subordinate functions were dedicated to specific purposes such as restoring the biosphere and reintroducing life. They were not strictly AIs, instead designed to be extensions of GAIA. The development of each subfunction was led by a chief scientist with specialized knowledge referred to as an Alpha.
Functions
| Symbol | Subfunction | Description |
| --- | --- | --- |
| | | AETHER is the subfunction dedicated to detoxifying the Earth's ravaged atmosphere. |
| | | APOLLO is the subfunction dedicated to the archival of human history and culture, and the education of new generations of humans born in Cradle facilities. |
| | | ARTEMIS is the subfunction dedicated to the creation and reintroduction of animal life onto a newly-terraformed Earth. |
| | | DEMETER is the subfunction dedicated to the replanting of the Earth from cryo-preserved seed stocks. |
| | | ELEUTHIA is the subfunction dedicated to the cloning and raising of humans from genetic stock at specially designed and prepared Cradle facilities scattered across the Earth. |
| | | HADES is the "extinction failsafe protocol" -- the last resort for GAIA, which would allow it to destroy and reset the terraforming process when an undesirable outcome is detected. |
| | | HEPHAESTUS is the subfunction dedicated to the construction of underground Cauldron facilities that would build the machines needed to complete the terraforming project. |
| | | MINERVA is the subfunction dedicated to the construction of massive communications arrays to broadcast the deactivation codes to the berserk Faro robots. |
| | | POSEIDON is the subfunction dedicated to detoxifying the Earth's poisoned seas and oceans. |