The Zero Dawn Project Facility is a ruin of the Old Ones in Horizon Zero Dawn, located beneath the city of Sunfall.
History
During the 21st century, the facility was the main site of development for the Project Zero Dawn team until relocation to GAIA Prime in January of 2066. The location, a spacious decommissioned Orbital Launch Base outside Bryce, Utah, was secured by General Herres for Dr. Elisabet Sobeck to begin recruiting candidates to Project Zero Dawn.
Because of the top secret nature of Zero Dawn, most candidates who were brought to the facility arrived confused and frustrated with no knowledge of the reason for their summons. Also due to the extreme sensitivity of the project, any candidate who learned the details but chose not to participate was not allowed to leave the facility and forced to choose between medial euthanasia or "indefinite detention."[1]
New World
Following the disappearance of Sun-King Iriv in the West, his successor Basadid ordered the construction of a fortress built at the edge of the Sundom. Basadid chose to build this fortress, which could to be known as Sunfall, atop the ruins of the Zero Dawn Project Facility, believing that the locatoin was chosen for strategical value. Much of the facility was either collapsed or built over: the exception was a massive stone ring, which came to be Sunfall's Sun-Ring.
Description
The first part of the facility contains a reception area, a lounge, and two holo-theaters for briefing the candidates on the mission status through hologram presentations. There are also medical suites for treating candidates overcome with emotion or opting for medical euthanasia.
Further into the site are work areas for each of GAIA's subordinate functions along with an individual office for Dr. Sobeck housing GAIA herself. Dr. Sobeck's office was designed with a large glass wall overlooking the labs.[2] The Alphas recorded hologram messages for their laboratories to welcome candidates and explain their programs' purposes.
Holograms
HEPHAESTUS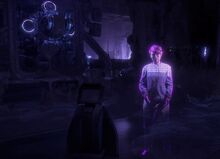 APOLLO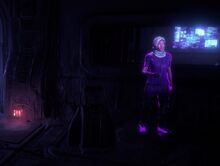 HADES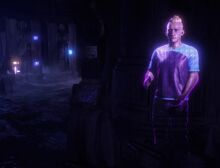 ELEUTHIA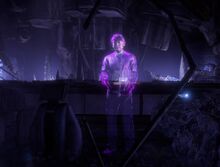 Collectables
Audio Datapoints
Text Datapoints - Quest
Gallery
References